Ener-C 1,000 mg Vitamin C Effervescent Drink Mix - Peach Mango
Ener-C was designed with you in mind. This delightful-tasting, effervescent vitamin drink mix is full of natural goodness. All vitamin and mineral sources have been chosen not only for their quality, but also for their ability to absorb easily in the body, ensuring that you get the greatest benefit from each and every packet of Ener-C.

Ener-C will help to increase and maintain your energy levels, due to the invigorating force of the B-vitamin complexes and electrolytes it contains. Is Ener-C that miracle cold and flu fighter you have been searching for? You can be the judge of that. Just make sure you keep your levels of Vitamin C and zinc up, and see how you fair while everyone else is down and out with the cold and flu. What is the best way to get those electrolytes? Some say Ener-C. Whether it's after or before a workout or game, or that extra sweaty time with a good friend, try it and see for yourself. Pssst - Did you drink a little too much last night? Have a little bit of a sore head, do you? Ener-C will turn that cloudy day-after, into a sunny day full of possibilities.

Features:
Delicious and effective way to drink your vitamins
Mineral ascorbate formulation for improved absorption
Electrolytes for balanced hydration  
Vitamins A, C, E and Zinc for antioxidant and immune support
B vitamins and potassium for energy
No artificial flavours, colours or sweeteners
Vegan, gluten and dairy free
Directions: Empty contents into a glass. Add 4-6 oz. of water.

Suggested Use: For adult use only. As a dietary supplement, take one packet up to two (2) times a day with food. Take a few hours before or after taking other medications. Consult a health care practitioner prior to use if you are pregnant or breastfeeding.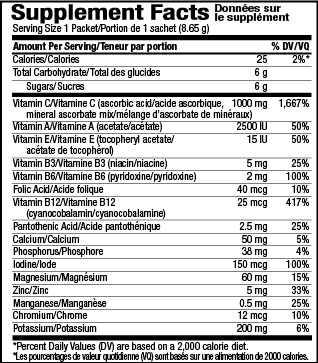 More Information

| | |
| --- | --- |
| Brand | Ener-C |
| Health Information | Cold, Electrolytes, Energy Support / Fatigue, Flu, Gluten-Free, Immunity, Vegan |
| Feature | Canadian Company, Contains No Artificial Sweeteners, Gluten-Free, Vegan |
| Size | 30 packet |
| Ingredients | Vitamin C/Vitamine C (ascorbic acid/acide ascorbique)/ (mineral ascorbate mix) 1000 mg 1,667% Vitamin A/Vitamine A (acetate/acétate) 2500 IU 50% Vitamin E/Vitamine E (tocopheryl acetate/ acétate de tocophérol) 15 IU 50% Vitamin B3/Vitamine B3 (niacin/niacine) 5 mg 25% Vitamin B6/Vitamine B6 (pyridoxine/pyridoxine) 2 mg 100% Folic acid/Acide folique 40 mcg 10% Vitamin B12/Vitamine B12 25 mcg 417% (cyanocobalamin/cyanocobalamine) Pantothenic Acid/Acide pantothénique 2.5 mg 25% Calcium/Calcium 50 mg 5% Phosphorus/Phosphore 38 mg 4% Iodine/Iode 150 mcg 100% Magnesium/Magnésium 60 mg 15% Zinc/Zinc 5 mg 33% Manganese/Manganése 0.5 mg 25% Chromium/Chrome 12 mcg 10% Potassium/Potassium 200 mg 6%. |
| NPN | 80033604 |
We found other products you might like!