Having spent a lot of my years victimized by over-packing (I mean honestly, what's worse than lugging around way more baggage than necessary?), I've spent a lot of time perfecting the art of packing appropriately. Having gone from travelling with over-stuffed bags and way too many carry-on pieces, to having as few bags as possible, I can't imagine going back to my old ways. A large part of my problem was not wanting to part with any hair, make-up or skincare products and not knowing how to streamline my necessities. Finally, after one too many experiences with bags so heavy I needed an entire entourage to assist me, I decided it was time to figure out how to minimize my necessities
without sacrifice.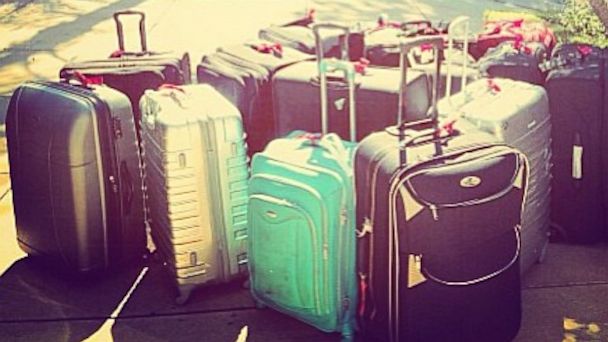 Above: According to Paris Hilton's Instagram, we have on thing in common: over-packing.

Since I've finally sorted out the fine art of travelling with beauty products, I figure why not let everyone else learn from my mistakes (you're welcome) and thus have put together a comprehensive guide to summer travel. Part 1 features the all-important skincare and I'll follow up with make-up and hair. Whether you're headed out for a weekend of glamping or are travelling to a beachy escape, you need not skimp out on your skincare regime and have no reason to step out sans lipstick!
Vacation-Approved Skincare:


Wipes are an absolute travel essential! Replacing the need for heavy and cumbersome bottled cleansers, these can be easily stashed away in your beach bag or purse and are gentle enough to be used throughout the day! After the beach, hike, or any other on-the-go activity you can quickly refresh your skin without having to rinse. I like to use these after a pool day, long day in the sun, or anytime I feel the need to freshen-up from the heat. Formulated with organic Bamboo extract and Vitamin E Antioxidant, they're nourishing and non-drying. They're also unbleached, biodegradeable and free of parabens, sulphates and DEA.
A double-duty favorite, this fast-absorbing spray not only soothes and cools sun-burnt skin (which we hope you won't have!), but can also be used to hydrate in replace of your regular body lotion. It cools upon contact, reduces the peeling of burnt skin, and is naturally scented with fresh coconut. You will fall in love! Keep it in your bag to rejuvenate your skin throughout the day.
For anyone with problem skin (raising my hand here), it's non-negotiable to travel without an arsenal of products. That can also mean way too many over-sized containers, which is why I like to keep a travel-size kit ready to go. The 5 essentials in this kit are great for active and oily skin, are non-GMO and made with organic ingredients. It contains: Citrus Kombucha Cleansing Gel, Kombucha Enzume Exfoliating Peel, Aloe + Willow Bark Pore Mimizer, Acai + White Tea Oil-Free Moisturizer and Beta Hydroxy Complex Recovery Cream. So, basically, everything you will possibly need to keep breakouts at bay.




If oily or acne-prone skin isn't your most imminent concern, but you seek
smooth, silky, youthful, and luminous skin
, then you probably won't want to leave home without this kit from Giovanni. It comes with a Purifying Facial Cleanser and scrub (because you will need to exfoliate at least once while you're away), a replenishing moisturizer and a purifying mask that contains charcoal and volcanic ash to extract everything and anything from your pores. Basically with this kit nothing you could encounter on your vacay (changing diet, too many cocktails, heat, sun, etc) stand a chance at wreaking havoc on your skin.
High performance sunscreen is a vacation must. This is yet another double-duty favorite! It's formula is gentle enough for children, yet effective enough for people of all ages, making it the only SPF you need to pack. It's a soothing blend of non-toxic, organic ingredients and antioxidants. It's not only protecting you, but doing good things for your skin at the same time! A rare find in a world of dangerous sunscreens.
Of course, no travel venture is complete without travel-size toiletry containers. I like to bring my own body wash, shampoo and conditioner for a variety of reasons (sensitive skin, blonde hair, etc), so high quality containers are a must. This kit comes with a travel train case, body buffer, toothbrush holder and 3x100ml bottles, which makes it a perfect option if you're trying to fly with only a carry-on suitcase.
As always, you can shop the story below and be sure to check back next week for make-up and hair! If you're travelling this summer leave us a comment and let us know! We'd love to hear about your adventures.